By Rafael Pelayo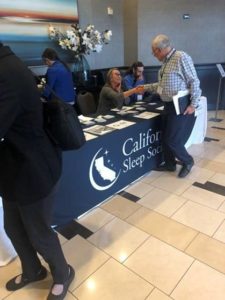 The California Sleep Society ("CSS") celebrated its 11th Annual Meeting at the end of September.  We welcomed over 300 participants to sunny San Diego for the two-day event.  We thank our membership's support for making this meeting a great success.  The meeting offered a maximum of 16.5 continued education credits for physicians, 16 credits for dentist, 14.82 credits for respiratory therapists, and 14 credits to sleep technologists.
The meeting was kicked off by a presentation on the future of sleep medicine by the President of the American Academy of Sleep Medicine, Dr. Douglas Kirsch.  The CSS appreciates the academy's support of our society and we look forward to continuing to work with the AASM. After Dr. Kirsch's presentation we had a pair of comprehensive talks from two Scripps sleep experts, Drs. Srivastava and Poceta
A highlight of the morning session was an impromptu summary of the history of sleep medicine in California by our founder, Dr. William Dement.  It was probably the first time some of our younger members had a chance to see/greet Dr. Dement in person.  Many people came over to talk and take photographs with him.  This was followed by an extraordinary presentation by another of the founders of the CSS, Mr. Patrick Moday.  His presentation reminded us of the challenges to our field that resulted in the creation of the California Sleep Society and the need to be vigilant of future challenges to our field.
The sleep star power continued with an in-depth presentation on the role of sleep in mental health by the new chair of Psychiatry and Behavioral Health at UC Irvine, Dr. Ruth Benca.  Not to be outdone, this talk was followed by the internationally-recognized sleep expert and hometown favorite, UC San Diego's Emeritus Professor, Dr. Sonia Ancoli-Israel.  Sonia presented a master class on the emerging links between sleep disorders and cancer.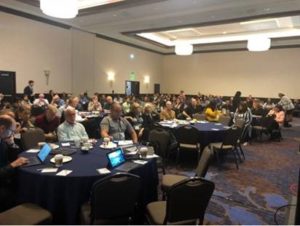 Following these enriching presentations, the first day was still far from over, although the beach must have been summoning many of our participants. The next presentation was a joint discussion of pediatric sleep, suicide and school start times by our incoming CSS president Dr. Anoop Karippot and president-elect Rafael Pelayo.
Southern California was further well represented by the next three speakers to close out first day's didactic presentations: Dr. Rakesh Bhattacharjee from Rady's Children Hospital in San Diego updated us on pediatric sleep apnea; Professor Michael Irvin from UCLA spoke on behavioral treatment of insomnia; and finally, 11 hours after we opened the meeting registration, Dr. Todd Morgan concluded with a discussion of dental sleep medicine.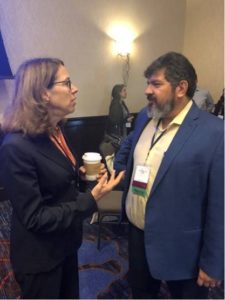 At this point our happy hour and evening dinner reception was well-earned. Vendors and attendees mingled and enjoyed additional time looking at the latest products and the photobooth was a hit! All enjoyed dancing and listening to the music.
Saturday's agenda was just as full as Friday's.  The morning was kicked off by a presentation by the founding President of the California Sleep Society, Dr. Clete Kushida.  Clete was followed by another internationally recognized sleep expert, Dr. Atul Malhotra, discussing the health implications of obstructive sleep apnea.  Of course, we needed to discuss surgical treatment of OSA and this was expertly done by Dr. Eric Kezirian of USC.   The next two speakers were also internationally-recognized experts. It would be hard to find anybody on the planet that knows more about sleep epidemiology than Dr. Maurice Ohayon.  A special treat for all in attendance was the presentation by the Honorable Dr. Mark Rosekind. He provided us with a vision of transportation safety with driverless technology.  We closed out the joint session with a presentation on sleep and the media by Dr. Raj Dasgupta, a sleep expert and regular on The Doctors TV show.
For the remainder of the day we divided ourselves into breakout sessions held in parallel and targeted for sleep technologists, dentists and physicians. The sessions allowed for a more intimate and informal discussion of various topics.  The physicians' sessions were very detailed year-in-review style presentations by Drs. Kin Yuen, Logan Schneider, Fiona Barwick, and Emmanuel During.  All are part of the Stanford Sleep Medicine program.  It was an especially rewarding experience for all present since the honorary chair of the session was Dr. Dement, who sat in the front row and could see the ongoing legacy of the work he started.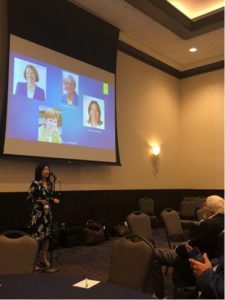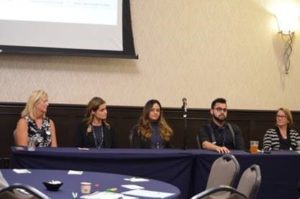 A technologist breakout session focused on the ever-evolving role of the sleep technologist including research, enhanced knowledge of new therapeutic modalities and a session exploring the kaleidoscope of roles available including industry, sleep navigators in the hospital and managerial leadership during a panel discussion. The session was moderated by Robyn Woidtke and Edwin Valladares, and speakers included Abdullah Alismail, Trish Steiger, Alana Sherrill, Shahnawaz Khan and Heidy Cruz-Perales.
Drs. Michael Simmons and Todd Morgan moderated a Medical/Dental break out session which included Fiona Barwick and Anoop Karippot.
It's never too early to start planning for next year's meeting.  Please mark your calendars and save the date for our 12th Annual Meeting of the California Sleep Society.  It will be held in Burlingame (near San Francisco Airport) at the Embassy Suites on October 18-19, 2019.
If you have any suggestions for topics for the next meeting, please feel free to visit our website (californiasleepsociety.org) and contact the CSS national office. The CSS is seeking individuals to volunteer for committees.  Such committees would include education and healthcare/sleep policy. We also have open positions on the board for which an election will be coming up.  The CSS encourages all members in good standing to submit their interest.