By: Rafael Pelayo, MD

"Why not?" is the simplest answer.  For years, many California Sleep Society (CSS) members, have wanted our annual meeting be in Sacramento.  We will hold our first meeting there at the end of September.  It does take a lot of time to organize the meetings and we rely on our administrative company, Xenicus, to do the logistical work.  CSS had originally intended to continue our pattern of alternating between northern and southern California.  At the CSS board meeting following all the fun we had in San Diego, we had to vote for the next CSS meeting location.  The vote came down to Sacramento or San Jose and San Jose won.  This is why we went as far as to announce San Jose as our location for the 2022 meeting.  This being the last year of my Presidency, it would have been sweet to end it on home court.  I had envisioned having the meeting perhaps in the Santana Row – I think our members would have really enjoyed touring this area.  CSS really wanted to find a good place for the meeting in San Jose.  I met CSS board members, Andrew Binder, MD (who flew from Santa Barbara in his plane) and Ryan Pierce, RPSGT, to look at local venues.
We thought we found some good places, but when we started looking at food and beverage costs, they were the highest we had ever seen!  Those of you who have been to a CSS annual meeting know we feed our members well.  In addition to all the educational content and collegiality offered, we also serve several meals and snacks throughout the meeting.  We have always strived for a meeting that is an excellent value to our members.  To provide the same amount of food in San Jose as we had offered in past meetings, we realized it would have meant having to charge more to attend the meeting.  We debated this among our board.  We did not see any way to avoid raising our registration fees if we met in San Jose.  We know many of our attendees are sleep technologists and we did not want to raise fees if we could avoid it.
CSS revisited the idea of having the meeting in Sacramento.  We found several good hotels and food costs are more inline with what we paid in the past.  Food and beverage (hosted bar!!) has traditionally been one of our biggest expenses.  The Hilton Arden West was selected based on the location's proximity to several activities, the space itself being recently renovated, and most important to us the staff being friendly and helpful.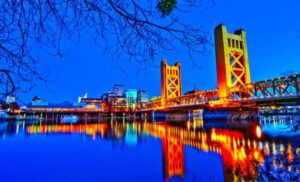 This may be our first meeting in Sacramento, but it may not be our last.  Perhaps it is best for the CSS meeting to be held every year in Sacramento.  We should explore this if there is special value in having a state organization hold its annual meeting at the Capitol.  Having the meeting in the same place every year may facilitate planning even if we rotate to different hotels within the city.  As a society with a mission of being the voice of sleep professionals in our state, we might be heard more loudly if we are predictably in the same place every year and could potentially meet with and invite to the meeting various members of the government and industry.  Alternatively, our state is so large and diverse that, in the end, we may have more interesting meetings if continue to rotate the location among other cities.  For now, please register to attend the 2022 annual symposium.  We look forward to having a great time in Sacramento together.